Fill out the Worksheet to choose your classes!
First Semester Worksheet
This worksheet will gauge your interests and will serve as the foundation for the classes you will be placed in. Fill out this worksheet as the first step towards creating your schedule.
Freshman Tool Kit
Placement Book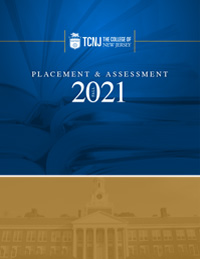 This book provides information regarding placement tests and assessments for writing, language and math courses. Here, you will find important dates for the placement tests. Check this booklet to see if your major has a math and/or language requirement.
View Placement Book

First Semester Program (FSP)
The FSP is the cornerstone of the Liberal Learning Program here at TCNJ. You will be asked to select six FSPs in accordance with your interests in the First Semester Worksheet.
Liberal Learning
The liberal learning program allows you to explore areas outside your major field of study. You will enroll in several courses over your TCNJ career to fulfill liberal learning requirements. Click HERE for a special letter from the Assistant Provost regarding the Liberal Learning program. For more information regarding the program and topics, go to the Liberal Learning webpage (http://liberallearning.tcnj.edu/).